Ezra Beaman's Birthday (1736-1811)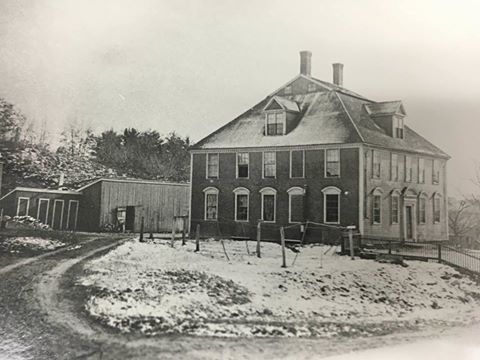 Ezra Beaman's family stretched back far into Massachusetts' past; his ancestor Gamaliel Beaman came to the new colony from England in 1635. He originally settled in Dorchester but moved to Lancaster about thirty years later. The family made its mark on the land.
Ezra Beaman was born in Bolton on October 16, 1736, to Jabez Beaman and his wife Dinah. In 1746, the family relocated to an expanse of land along the Nashua River in what was then Shrewsbury. Today, the area of the Beaman farm is under the reservoir but existed somewhere to the southeast of the Old Stone Church and the Route 140 causeway. Jabez Beaman established himself as a farmer in town but died in 1755. He left the land to his wife and to Ezra.
Ezra married Persis Keyes, daughter of Deacon Cyprian Keyes, and they had six children: Levinah, Persis, Jabez, Betty, Ezra Jr., and Eunice. His father's death left him in charge of the Beaman estate, and in 1764 he constructed a magnificent building which became known as the Beaman Tavern. Legend reports that Beaman Tavern was so sturdy and well-crafted that visitors flocked to it from all over. The Tavern stood for roughly 150 years; Ezra passed it to his son, also named Ezra, who had no children. Upon his death, Ezra Jr.'s housekeeper sold Beaman Tavern and it was converted into a tenement house for a nearby factory. The Tavern was demolished when construction on the Wachusett Reservoir began. (Pictured below is Beaman Tavern during its time as a tenement house.)
Ezra Beaman exhibited a love for public service even before his role in the foundation of West Boylston. He served as a public prosecutor in the 1760s and 1770s as well as a town selectman for ten years. He served as selectman first in 1766, then from 1769-73, and four more non-consecutive times after that. As neither Boylston nor West Boylston had been founded yet, he was town selectman of Shrewsbury.
Ezra Beaman had an undying devotion to his family and to his town. But, with the American Revolution fast approaching, his loyalties would soon be tested…
Ezra Beaman, served during the Revolutionary War as part of Shrewsbury's local militia. However, the years leading up to the Revolution show his stubborn personality and his outspoken, radical nature which would eventually help West Boylston be founded.
Tensions with Britain strained the colonies. Ezra became outspoken against British tyranny from the 1760s on, while Beaman Tavern became a meeting place for people to discuss the injustices the empire put upon its colonies. Ezra's support of the colonies incurred the wrath of Tories loyal to the Crown, including Rev. Ebenezer Morse. During his sermons, Rev. Morse prayed for the well-being of the royal family and the success of the Crown…which caused Ezra to gnash his teeth. Conflict sparked between families; some families supported Rev. Morse's Loyalist tendencies while others sided with Ezra Beaman and believed in liberation from an oppressive government. Eventually, things became so tense that Ezra, exercising his power as a public prosecutor, ousted Rev. Morse from his Shrewsbury parish and threw several Loyalists into exile.
The Revolution began, and Ezra answered the call to arms in Lexington. The Shrewsbury militia marched eastward and served under General Artemas Ward, General of the Continental Army and local Shrewsbury hero. Ezra was a lieutenant in the army and was in Cambridge during the Battle of Bunker Hill but did not engage in the fighting. Additionally, Ezra found himself a powerful politician during the War. Massachusetts town essentially had to act as their own entities as the British armies occupied Boston, and Shrewsbury and its surrounding towns came under martial law. As a town selectman, Ezra could exercise more power during war time.
In June 1777, Ezra was made a major of the Sixth Worcester Regiment and soon after returned home. He fought in a few battles as the Revolution drew nearer to its end and was involved in Shay's Rebellion (1786-1787) before finally retiring. He moved home to work on his land, and soon his noble role in West Boylston's history reached its peak…
The Revolutionary War ended, and Ezra Beaman was now a citizen of a brand new country. But Ezra, along with many of his peers, were not satisfied with being part of the town of Shrewsbury. They were tired of traveling long distances for church, as they had no place of worship closer to them. Finally, in 1786, the people of Boylston voted to construct a meetinghouse/church closer to themselves and to incorporate a brand new town. Ezra Beaman suggested that the new meetinghouse be constructed in the western part of Boylston–closer to his property. His suggestion was rejected. Boylston was founded, and citizens of the western part of the town still had to travel a considerable distance to attend church.
Ezra served as a selectman and town representative for Boylston but was still frustrated by the time it took him and his family to attend church. In 1793, he led a group of neighbors in "revolt" against Boylston. The group voted to construct another new meetinghouse, this time in the western part of town, and Ezra funded the construction. The new church was so well-located that people from Holden and Sterling, not just Boylston, began to attend services there. About ninety families who attended this church rallied and petitioned the General Court to incorporate a new town with the Beaman-funded meetinghouse at its center. The towns of Boylston, Sterling, and Holden REJECTED the proposal! The ninety families, led by Ezra Beaman himself, decided to try again…and this time, it was personal.
Almost immediately, the ninety families petitioned the General Court again. Instead of asking for a new town, they asked that their meetinghouse be recognized as the second precinct of Boylston. Despite facing great opposition, the General Court approved the petition and the meetinghouse became another precinct in 1796. Twelve years later, in 1808, the General Court finally recognized West Boylston, with nearly 600 inhabitants, as a town. It was incorporated, and Ezra Beaman served as town selectman, town Treasurer, and Representative to the state legislature all at once. He won his first election unopposed and served as Representative four times consecutively before his death in 1811.
On October 16, 2016, Ezra Beaman turned 280. He led an incredible life: he saw towns break apart and communities band together; he fought to free his family from tyranny; he served as a town government official for Shrewsbury, Boylston, and West Boylston, though he never moved out of his beloved Beaman Tavern. He was relentlessly stubborn and devoted to his community.
Help us to always honor Ezra Beaman, our Town Father and our library's namesake.
For more information see: Ezra Beaman, West Boylston's Town Founder