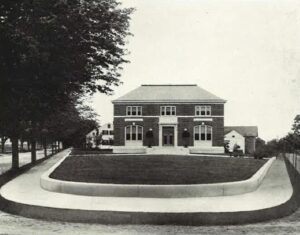 The first public library in West Boylston opened in 1878 following a $100 bequest from the estate of David Lee Child. In addition, Lydia Maria Child, his widow, donated 170 volumes from her personal collection. This library was first housed in the high school located in the center of town in the valley. Very shortly thereafter, it expanded to the second floor of the Primary School across the road. In 1904, during the construction of the Wachusett Reservoir, it was relocated to a space in the new Town Hall on Central Street.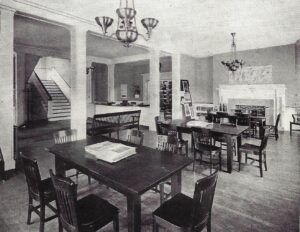 In 1911 George Calvin Rice, a local farmer, approached the Town with a plan for building a new library in honor of his great-grandfather, Major Ezra Beaman. He proposed donating $20,000 to build a library if the Town purchased the piece of land at the junction of Central and Newton Streets. At Town Meeting the townspeople voted to approve the funding for the purchase of the land and to support the additional funding necessary to run the library. The Beaman Memorial Public Library opened to the public on September 6, 1912.
The building was a wonderful mix of elegance and good common sense. When it opened in 1912 it housed a collection of 8,000 books, but was designed to eventually hold 15,000 books. That total was reached and exceeded by the early 1960s necessitating a second floor of metal shelving in the rear book stack and the addition of shelving in the Meeting Room to provide space for the growing reference collection. In addition, the Trustees' room became the Director's office allocating more space for the growing staff. In the early 1970s an area of the basement was converted to a Children's Room, with space for an office and two restrooms. By early 1980, it was obvious that the community and its needs for modern library services had outgrown this building.

In 1999, with a $1 million grant from the State and generous local funding of $1.34 million, the building was renovated and expanded. The community further raised $200,000 to purchase furnishings and shelving for the new space. The vision of George Calvin Rice has been translated into a modern facility that is handicap accessible, provides room for future growth, accommodates new technologies, and offers the public a comfortable and welcoming library.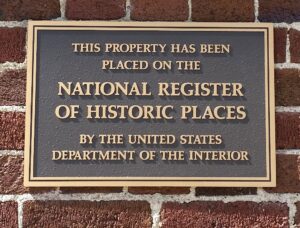 In 2016 the Library was named to the National Registry of Historic Places.