Death Notice of Jabez Beaman (1812)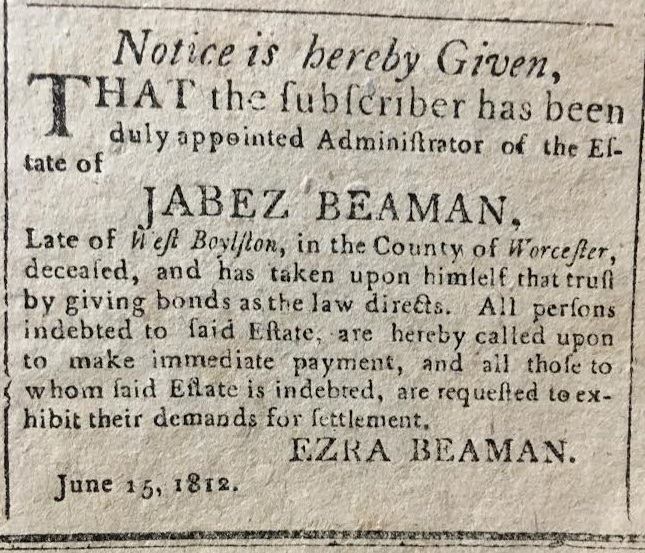 When looking through the old newspapers from our Local History Room, we sometimes stumble across the names of our "local celebrities." In this case, it's not for a good reason. The notice, pictured below, lists two names we've seen before: Jabez Beaman and Ezra Beaman. The notice is from June 1812, one year after town founder Ezra Beaman, Esq., died, so we have to assume that this Ezra Beaman is his son, "Uncle Ezra," the eccentric Tavern owner. Using our historical records of the Beaman family, we've determined that this Jabez Beaman is Uncle Ezra's brother.
This notice is from July 1812 and publicly reports that Jabez Beaman has passed away and that his estate is now under the control of Uncle Ezra. Notices like these are actually quite common in these early 1800s issues of the Massachusetts Spy/Worcester Gazette. Since communication was slower and less accessible in those days, public death reports in newspapers were critical to widespread knowledge. In 21st century speech, this notice states: "Jabez Beaman has died and his brother Ezra has been appointed Administrator of the Estate. If you have any questions regarding Jabez's estate, please speak to his brother." It's a simple message, but this information is essential to any local people that may owe Jabez money or to those to whom he owed money. Maybe neighbors and old friends would send letters or sympathy cards to Jabez's family, too. Articles such as these are standard in these old newspapers and were essential to society.