Sgt. John Emerson Anderson (1860's)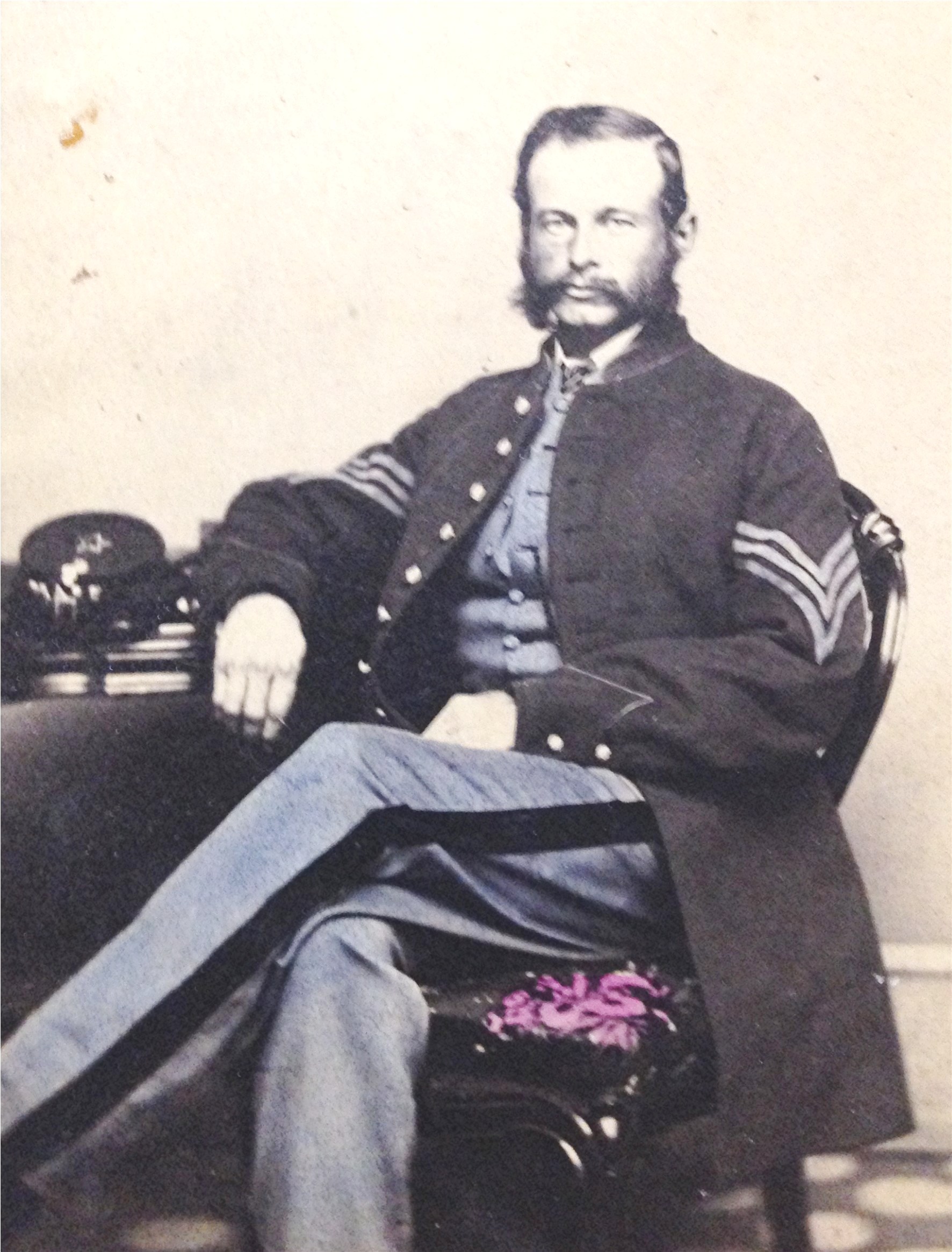 The history room at the Beaman Memorial Library houses a range of documents, including a series of letters and a memoir from Sgt. John Emerson Anderson, a West Boylston resident who served in the Civil War.
John's regiment marched to Washington, D.C. in mid-1861. In a letter from September 8, 1861, he hopefully told his parents: "There seems to prevail the opinion that the war soon be ended and we permitted to go to our homes, certainly our prospect look bright at the present…" Unfortunately, the war would not end until 1865. Many of John's letters to his family involved his descriptions of day-to-day life in military camps; he describes being a "silent spectator" as his fellow soldiers gamble, drink, and fight, and he comments on the demoralization of the soldiers as the Confederacy continued to withstand major assaults: "I am not anxious to fight—that is—not over-anxious to expose myself to the enemies bullets—but if we could go into battle today, or soon, I should feel a strong inclination to conquer or die…we need a victory now and must have it soon."
John's regiment marched to Atlanta, GA in 1863, where he and his companions camped outside the city while more and more Union armies surrounded it. The 2nd Massacusetts Infantry was the extreme right flank at Gettysburg and engaged in fighting on July 3, 1863. He wrote to his parents: "Sometimes too I feel that I would like to sit by mother, and father in that quiet little room away from the noise and confusion here…as far as my knowledge goes I am convinced that we are slowly tightening our chain of armies around the enemies making it harder every day for him to hurl us back—each charge being but another slaughter to add to the list of casualties…" The Union eventually captured and occupied Atlanta, and John's regiment took part.
Thankfully, the war finally ended, but John found it difficult to rejoice once he heard about the death of President Abraham Lincoln: "I thought I would drop you a few lines though I do not feel like writing. We seem to be on the eve of peace. Lee has surrendered to Grant and Johnston to Sherman. About an hour ago a report came to camp that President Lincoln has been assassinated. I do not know what to do. I would like to rejoice that peace is ours. I cannot now. I will waite till my mind is settled."
We learn so much about the Civil War and its costs, victories, and horrific battles. It's easy to overlook the story of an average soldier. Sgt. John Emerson Anderson's collected letters home give us a better look at what one soldier from our little town went through on the fields outside Atlanta.