David Lee Child (1794-1874)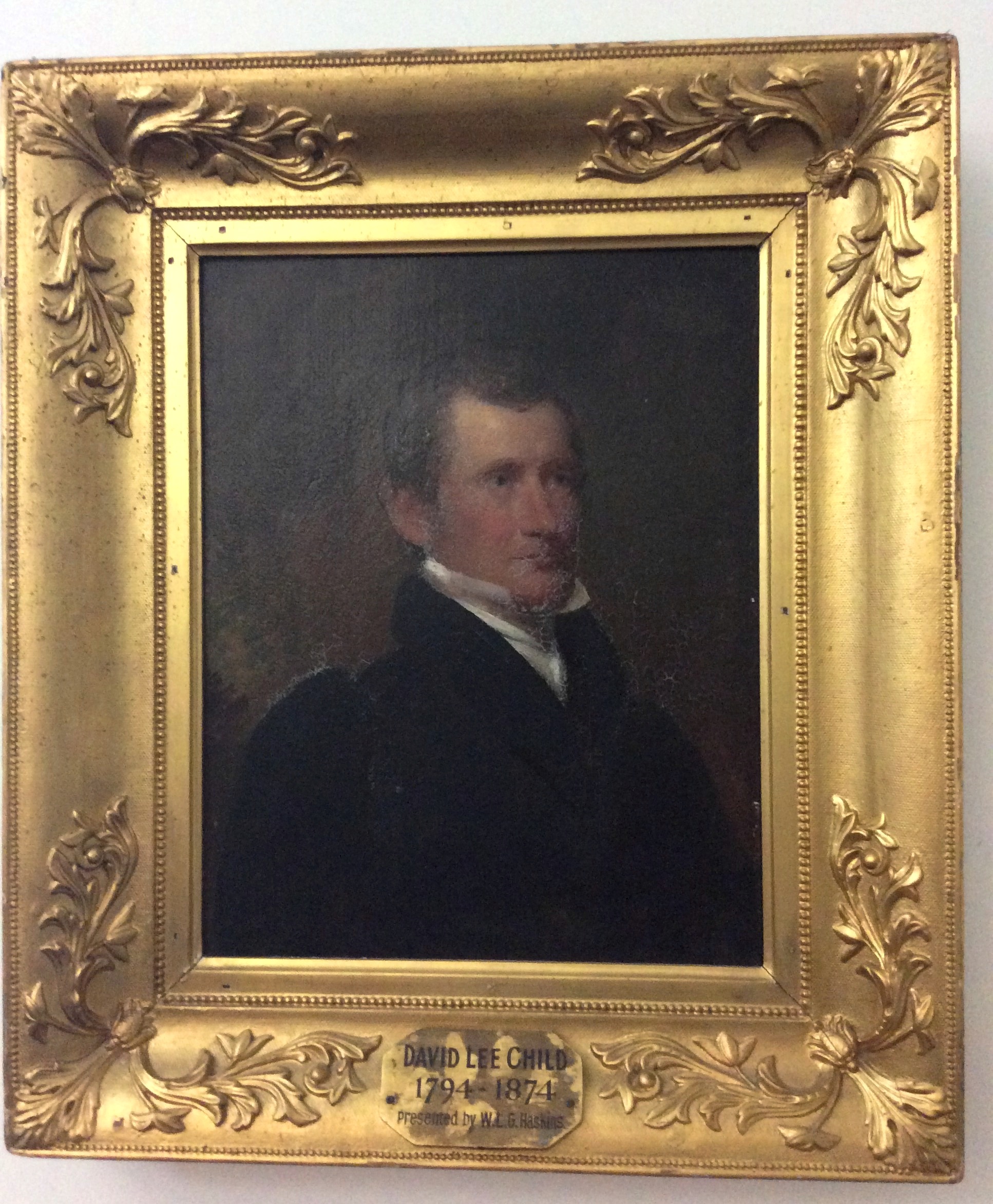 Another portrait from our library we'd like to share is, thankfully, labeled, and depicts a figure with national fame. Here's the plaque given for David Lee Child:
"David Lee Child war born in West Boylston, 8 July 1794, in the Jacob Hinds House now (1910) occupied by Elwin J. Chase. Graduated from Harvard College in 1817. Submaster in the Boston Latin School in 1819. Appointed by President Monroe Secretary of the United States Legation at Lisbon, Portugal. Returned to the United States in 1824. Studied law and was admitted to the bar. In 1828, married Lydia Maria Francis who became one of the most distinguished American women of her day. Introduced the manufacture of beet sugar into the United States, visiting Belgium in 1836 to learn the process. Was a member of the General Court of Massachusetts. Presided in Boston at the first anti-slavery meeting ever held in this country. In 1841 moved to new York and with his wife became joint editor of the National Anti-Slavery Standard. Wrote voluminously on the subjects of slavery and the slave trade. Author of a work on beet culture. Spent his later years in Wayland Massachusetts and died there: 18 September 1874. Bequeathed one hundred dollars to the town of West Boylston for the purpose of starting the foundation of a public library. As a result of his bequest, the West Boylston Public Library was founded in 1878. From her own library, his widow Lydia Maria Child donated in 1878 one hundred-seventy volumes to the West Boylston Public Library."
Clearly, David Lee Child led an incredible life. His wife, Lydia Maria Francis Child, herself became an outspoken abolitionist, women's rights activist, and Native American rights activist. She also wrote the famous poem "Over the River and Through the Wood (to Grandmother's House We Go)." The first West Boylston library, lost to the reservoir, was founded with the Childs' help. Thus, it is no surprise that David Lee Child's portrait hangs in the Beaman Memorial Library.

Also See: Lydia Marie Child