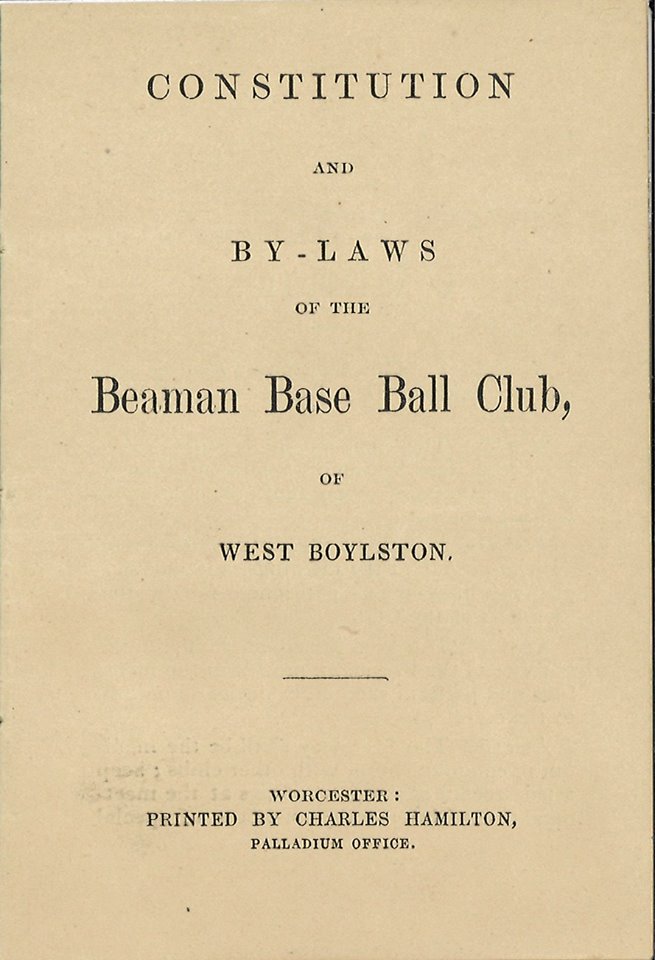 Many people consider baseball to be America's pastime, a sport which has united people nationwide. Massachusetts has particular pride in its baseball team—Fenway Park is the oldest ballpark in the U.S., and even non-fans of baseball surely stayed up to watch the Red Sox break the curse in 2004. The sport's history stretches back centuries. Below are some images from the constitution and by-laws of the "Beaman Base Ball Club of West Boylston." We aren't sure of the date of the club's formation, but we can guess that this constitution was written during or after the 1860s, since that's when the sport's popularity exploded and semipro teams began to spring up around the nation.
West Boylston residents clearly loved the game and established their own club to play the game. The club was only opened to men. Article 2 of the by-laws indicates the process by which an ideal candidate could gain club membership:
"Any gentleman over fifteen years of age, possessing a good moral character, may become a member by being proposed by a member, and receiving a majority of the votes at any regular meeting."
Really, all the club looked for was a guy who wanted to have a good time playing baseball and who wasn't rude or a criminal. We only have these formal documents, so we aren't sure what drama occurred during the membership application process or if the club decided to bend the rules to allow women onto the team.
Below is the full booklet containing the club's constitution, by-laws, and the "Rules and Regulations of the Game of Base Ball" determined in 1858. Take a look! See what America's pastime looked like over one hundred years ago.