West Boylston gained its independence from Boylston in 1808, and we're lucky enough to have some yellowed, fragile newspapers from that year down in our Local History Room. The newspaper is the Massachusetts Spy, or Worcester Gazette. In those days, some S's were written to look like fancy lowercase F's, so the title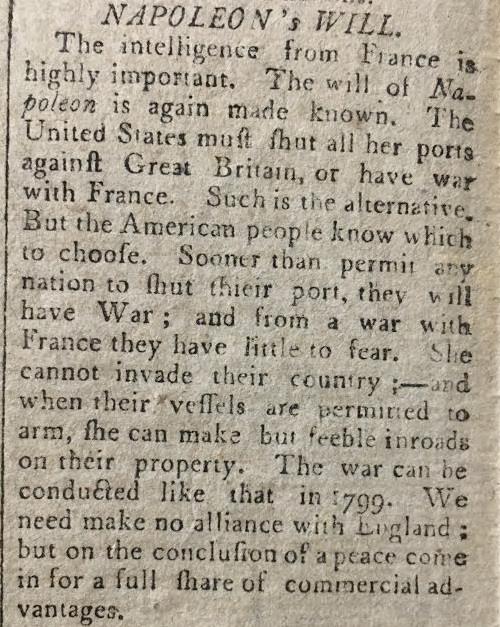 of the newspaper might look like "Maffachufetts Spy." It's also fun to say it that way.
The newspaper clippings pictured here are from July 6, 1808, barely six months after the incorporation of our town. The fledgling West Boylston had exciting news from abroad: Great Britain's war with the Emperor Napoleon of France was not going well. This particular article details Napoleon's orders for the United States to close its ports to Great Britain or risk war with France. Reading this paragraph is strange because it comes from a time when Napoleon was not a mocked, supposedly short-statured Frenchman who lost the Battle of Waterloo. In 1808, he was a real threat—maybe not to America but certainly to Great Britain and to whatever kingdoms and empires were unlucky enough to border France.
This newspaper clipping gives us a different context when thinking about West Boylston's past. Perhaps we can even imagine town founder Ezra Beaman taking a break from his decades of campaigning for West Boylston's independence and reading about world issues in the comfort of his home.
Townspeople likely talked about the risk of this foreign war at dinner parties or while trying to make small talk with a new acquaintance. Old newspapers remind us that people have always loved news, have always loved gossip. They also remind us that we, like West Boylston 209 years ago, are in the years before Napoleon's Waterloo, and that the powerful people or foreign nations we fear will one day be nothing more than history growing musty on a yellowed newspaper page.